Over 9000 people took part in a waste cleanup action in Afghanistan on the 8th and 9th of August. The cleanup action was organized in ten provinces, including Kabul, which witnessed three terrifying suicide attacks just a day before.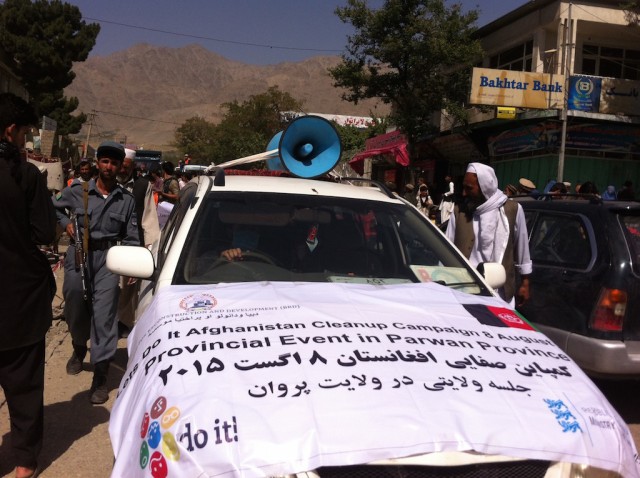 We had three deadly suicide attacks on 7th of August in the capital city of Kabul. More than 40 people were killed and around 400 were injured. We are sending all the families our condolences and are with them in our thoughts in this difficult and sad time,Arifa Mohmand, the Regional coordinator of Lets Do It! World in Afghanistan says.
She emphasizes, that these incidents made people invest even more effort to create something positive for the country. Because of the attacks, the cleanup action in Kabul was organized not on the 8th of August as planned, but on the 9th of August.
During the action that took place in ten provinces, 143 illegal dump sites were located and 102 tons of waste was collected. The team of Lets Do It! Afghanistan is building its campaign step by step, aiming to reach all provinces and to organize a nationwide cleanup action in 2018. In the following years, more time will be invested in pre-cleanup activities to inform people about the cleanup and attract more participants.
The response of the society has been amazing. I think it has provided us a common ground for contributing to the wellbeing of our society, Mohmand believes. According to her, high rank government officials and various interest groups have also given the action a very positive response.
The regions involved in the first cleanup were Kabul, Logar, Parwan, Kapisa, Panjsher, Kunduz, Takhar, Ningarhar, Kunnar and Laghman. Lets Do It! Afghanistan action is coordinated by the Bureau for Reconstruction and Development (BRD) Afghanistan which is based in Kabul.
The international grass-root network Lets Do It! aims to solve the illegal dumping problem on a local and global level both short and long term by engaging a large part of the society in the cleanup activity on an action day, raising the issues related to illegal dumping and engaging both experts, political and local leaders to find more sustainable systemic solutions. The movement began in Estonia in 2008 when 50 000 people came together and cleaned up their entire country in five hours, removing 10 000 tonnes of waste. Today, Lets Do It! is a global network of 112 countries, having engaged about 13 million participants.
The countries participating in Lets Do It! actionscan be seen here:www.letsdoitworld.org/countriesandupcoming cleanup dates can be seen here:www.letsdoitworld.org/cleanup_dates_2015.Photos of Lets Do It! Afghanistans cleanup action can be found here:http://mediabank.letsdoitworld.org/photos/563.
Lets Do It! World Cleanup 2015 issupported bybytheEstonian Ministry of Foreign Affairsfrom theDevelopment Cooperation and Humanitarian Aid fund,the Estonian Ministry of the Environment, the Open Estonia Foundation, Skype, Carlson Rezidor Hotel Group, QlikView, Tallink Group, DHL Estonia, PricewaterhouseCoopers, Estonian Air, Interlex Translations, Meedius Estonia, Sendsmaily and EuroPark Estonia.
More information:
Meelika Hirmo
Lets Do It! World Cleanup 2015
Head of Public Relations & Communication
Phone: +372 504 1258
E-mail: [emailprotected]
Webpage: www.letsdoitworld.org
Facebook: facebook.com/letsdoitworld
Twitter: twitter.com/letsdoitworld
Youtube: youtube.com/letsdoitworld