Lets Do It! World Cleanup 2015 is uniting five countries in country-wide massive cleanup actions this weekend. Ukraine, Greece, Latvia, Lithuania and Cyprus are organising cleanup actions and community events on the 25th and 26th of April.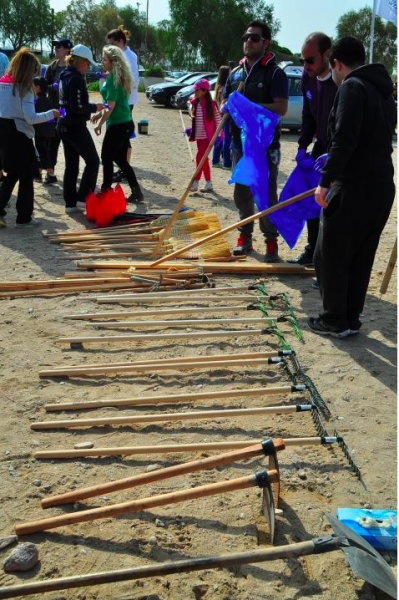 On 25th of April, volunteers in Ukraine, Lithuania and Latvia are coming out to clean up their countries from illegal waste. Greece and Cyprus follow shortly on the 26th of April.Ukraine is getting ready for a cleanup event despite political instability and military conflict in some regions in the country. With the number of volunteers growing each year, Ukraine hopes to increase the participation from 170,000 last year to 250,000 this year, aiming for 5% of the total population.
We are organising a country-wide cleanup at such a difficult time because people would like to be engaged in activities that are not related to military action, Iulija Markhel, head of Lets Do It! Ukraine commented on the timing of the cleanup. Our project brings people together at a time when they are separated.
Lets Do It! Ukraine has managed to get different segments of the society on board for this massive civic action: the business sector, government institutions, 3rd sector, media, schools, universities and the general public are all engaged in the cleanup activities on the 25th of April. Its very important to know that youre not alone and theres the whole country that supports and shares your goals and moreover, the whole world, Markhel added.
Greece is organising a country-wide clean up in the framework of Lets Do It! on the 26th of April, having located more than 600 cleanup points throughout the country. Volunteers are welcome to join in cleaning up the land and water and participate in cultural and athletic events in the frame of Lets Do It! Greece.
Our goal is to become a nationwide volunteer festival. At the same time, we aim to implement a very productive campaign through which people re-establish their connection with nature and thus realise the importance of preserving it, Xaris Vlassopoulos, Creative Department Manager of Lets Do It! Greece commented.
Latvia and Lithuania are both aiming for at least 200,000 volunteers to be engaged in cleanup actions and the organisers say that the amount of illegal trash collected by volunteers is less and less every year. In Lithuania it has reduced from 11 000 tons to 2000 tons. Moreover, Latvia is aiming to celebrate its upcoming 100th birthday by becoming the cleanest country in the world.
The international network of Lets Do It! aims to solve the illegal dumping problem on a local and global level both short and long term by engaging a large part of the society in the cleanup activity on an action day, raising the issues related to illegal dumping and engaging both experts, political and local leaders to find more sustainable systemic solutions. The movement began in Estonia in 2008 when 50,000 people came together and cleaned up their entire country in five hours, removing 10,000 tonnes of waste. Today, Lets Do It! is a global network of 112 countries, having engaged 11,2 million participants.
The countries participating in Lets Do It! actionscan be seen here:www.letsdoitworld.org/countriesandupcoming cleanup dates can be seen here:www.letsdoitworld.org/cleanup_dates_2015. Photos of different cleanup events can be found here.
Lets Do It! World Cleanup 2015 issupported bybytheEstonian Ministry of Foreign Affairsfrom theDevelopment Cooperation and Humanitarian Aid fund,the Estonian Ministry of the Environment, the Open Estonia Foundation, Skype, Carlson Rezidor Hotel Group, QlikView, Tallink Group, DHL Estonia, PricewaterhouseCoopers, Estonian Air, Interlex Translations, Meedius Estonia, Sendsmaily and EuroPark Estonia.
More information on the global movement:
Meelika Hirmo
Lets Do It! World Cleanup 2015
Head of Public Relations & Communication
Phone: +372 504 1258
E-mail:meelika [at] letsdoitworld [dot] orgHomepage:https://www.letsdoitworld.org
Facebook:http://www.facebook.com/letsdoitworld
Twitter:http://www.twitter.com/letsdoitworld
Youtube:http://www.youtube.com/user/Letsdoitworld
Ukraine
Irina Yashenko
Lets Do It! Ukraine
Phone: +380 095 681 45 03
E-mail:[emailprotected]
Homepage:http://letsdoitukraine.org
Twitter:http://www.twitter.com/letsdoit_ua
Blog: http://letsdoit-kyiv.livejournal.com
Greece
Xaris Vlassopoulos
Lets Do It! Greece
Creative Department Manager
Phone: +694929 0142
E-mail: harry [dot] vlassopoulos [at] gmail [dot] comHomepage: http://www.letsdoitgreece.org
Facebook: https://www.facebook.com/pages/Lets-do-it-Greece
Twitter: https://twitter.com/letsdoitgreece
Youtube: http:///youtube.com/letsdoitgreece