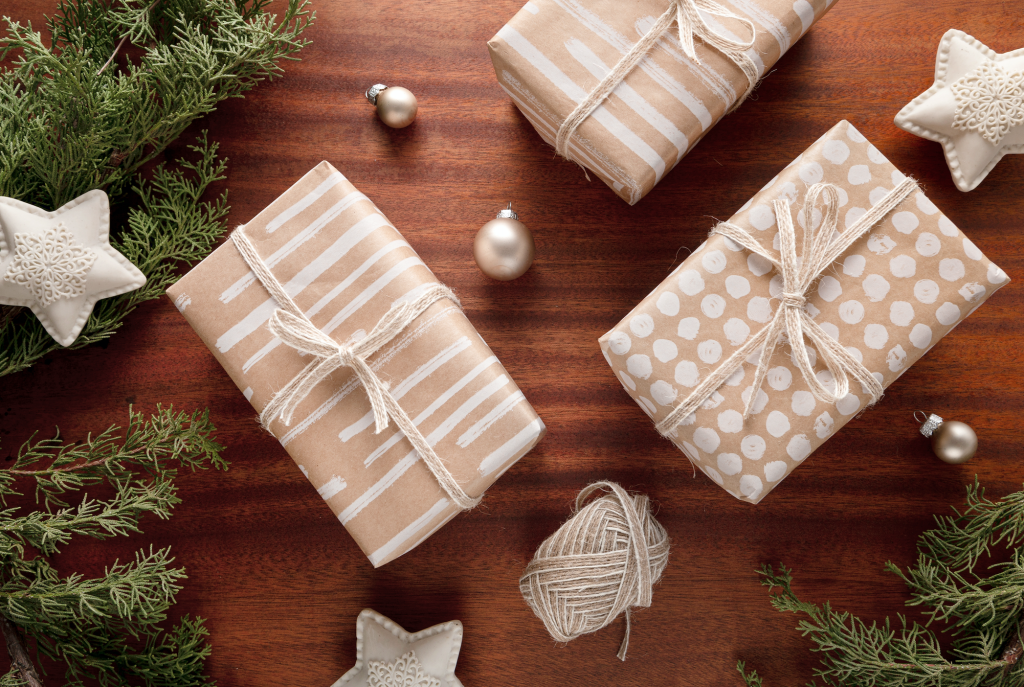 According to recent research, people like getting wrapped gifts more than unwrapped ones. It's strange how a piece of paper and a ribbon makes us happier, but it really works. Unfortunately, gift wrapping doesn't make our planet happier. In Canada alone it's estimated that 540,000 tonnes of wrapping paper will end up in landfill after the winter holidays. That's the same weight as roughly 100,000 elephants! And in the UK, more than 365 thousand km of wrapping paper is thrown away each year. Just imagine how big the global numbers are! So, why don't we stop it from increasing? Let this holiday season leave a smaller waste footprint by using our eco-friendly gift wrapping ideas.
Reuse Wrapping You Already Have
Imagine the time for exchanging presents has come. What's your first thought? Make it: "I need to unwrap my present very gently." That way, the paper and decorations can be reused for the next special occasion.
If you're afraid that gift recipients will recognise their own wrapping, here's a tip to avoid such awkwardness! Cut a small piece of the wrapping paper before you store it away, and write on it who this wrapping came from.
Decorate Used Boxes
Boxes constantly appear in our life: as gifts, from deliveries, from shopping, etc. Try to keep good ones for Christmas to put presents in—you'll always be able to recycle any unused cardboard boxes at a later date.
Wrap In Other Kinds of Printed Paper
Your present will definitely stand out from the crowd if you customise the wrapping. For example, cover a gift with:
A page from a magazine or newspaper that hints at what's hidden inside. For example, use recipes to wrap kitchen utensils, an article about a semi-precious stone to wrap jewellery with, or crossword puzzles to wrap a book or a board game;
A poster of the recipient's favourite celebrity;
An old map for an adventure-lover;
Sheet music for a musician;
Old book pages for a book-lover;
An old wall calendar: there will be no better time to use it than at Christmas.
Make the Wrapping a Part of the Present
Even people who don't follow a zero waste lifestyle (yet!) will probably save fabric bags and baskets if there's a present inside them. You can also use handkerchiefs, scarves, or cloth to decorate your present, taking inspiration from the furoshiki wrapping technique.
Cover a Gift with Brown Paper, and Your Imagination
A lot of online retail stores have already switched from packaging items in environmentally unfriendly space-fillers to simply using brown paper. Hence, you don't even need to buy new paper—just save the ones you get with your online orders. Make simple paper more festive by drawing holiday motifs with a marker, making and using a Christmas-tree potato stamp, or even decorating it with funny faces.
Use Paper Duct Tape
The amount of sticky tape used during the festive season could be wrapped around the world 499 times! Plus, it's not recyclable and contaminates the paper sent for recycling. So the better option is to go tape-free, or at least use paper-based duct tape.
Decorating a Present with Minimum Waste
For some people, a present without a ribbon doesn't look finished, even if it's beautifully wrapped. But, unfortunately, most ribbons are made of plastic and are not accepted for recycling. Although a gift recipient can reuse them, fabric ribbons are a better choice as they last longer than plastic ones. If you're unsure whether the person you give a gift to will be careful enough to reuse the ribbon, use a paper raffia ribbon that can be recycled.
Alternatively, materials like sticks, leaves, pinecones, or dried sliced fruit and berries can create a perfect festive mood. Plus, they can be composted after the holidays. Jute or unbleached cotton strings instead of ribbons will perfectly suit such decorations.
Our last tip is about new wrapping paper. If you can't resist all those colourful Santas, Christmas trees, and deer printed on wrapping paper, then choose a recyclable roll. Look for one that doesn't contain metalised decorations, glitter, and velvety parts. That way, the person receiving the gift will be able to recycle it.